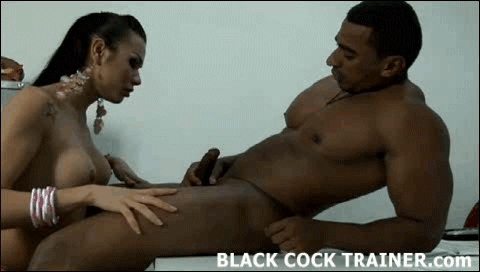 share gif:

You're going to be a little bit jealous after being a fly on the wall for this sex scene. Just look at how this hung black stud deals with this hot tranny boypussy.

He's going to treat my tight hole to his big black cock and I'm going to love every minute of it. Do you know how amazing it feels to be busted open by a man of color? I've had jungle fever for quite some time, and nothing gets me more horny then dressing up in some sexy lingerie and the idea of my ass being slammed by a hung black stud. Look at the size of his dick - it's just incredible!

Be honest, how much would you love to be a sissy for this ebony god? Just to put you in a cute dress, some cotton panties and set you free in his domain. Your asshole wouldn't be able to handle the pleasure he'd deliver. That huge dark-skinned dick would hone in on your cute butt and ensure that you never wanted another type of dick again.